The Seedarhouse Greenhouse
6ft x 8ft Seedarhouse manufactured from Western Red Cedar. With toughened safety glass and maintenance free roof £2045 inc vat delivered
"PUTTING THE CEDAR BACK INTO GREENHOUSES"
The framework is of the Seedarhouse greenhouse constructed entirely from Western Red Cedar ("Thuja Plicata") which produces natural oils that act as preservatives to protect the wood from insect attacks and decay. Beauty aside, the Western Red Cedar's practicality and cellular structure creates air spaces that give it an insulation value higher than most woods. Buildings which feature cedar panels tend to stay warmer in the winter. The Seedarhouse has manually operated roof vents allow ventilation around the greenhouse to keep it cooler in the summer.
The Seedarhouse is exclusively a glass to the ground greenhouse which gives you extra light and is ideal when you need growth from ground level for example tomato plants and peppers. Careful consideration is given to every aspect, resulting in a superb and high-quality timber greenhouse.
The Seedarhouse – Cedar Wooden Greenhouse
HAND MADE IN THE UK Take a look at our Staffordshire workshops!
100% WESTERN RED CEDAR CONSTRUCTION (Grade 2 Clear & Better)
WINDOW SECTION – A STRONG 2″ x 2″(44mm x 44mm)
ROOF SECTION A STRONG 2″ x 2″ (44mm x 44mm)
EAVES HEIGHT Range from 5ft 6″
GLASS TO GROUND FULL SHEET GLAZING – 22″ WIDE 4mm English toughened safety glass (BS 6206 – Class A)
SLIDING DOOR SIZE – 26″ (650mm) x 6ft 3″
ALUMINIUM RIDGE – YES as standard
LARGE 4″ GUTTERING AND DOWNPIPE- YES as standard on both sides
INCLUDES DELIVERY TO UK MAINLAND FOR SELF INSTALLATION YES anywhere in mainland uk
More Features of this greenhouse included as standard
Wester Red Cedar Framwork
Low maintenance

1 x Louvre vent as standard
Increased ventilation

Manual roof vents
Increased greenhouse ventilation

Sliding door
Easy access with a low threshold
An interactive picture showing the features of a Seedarhouse
Click on the white dots for more information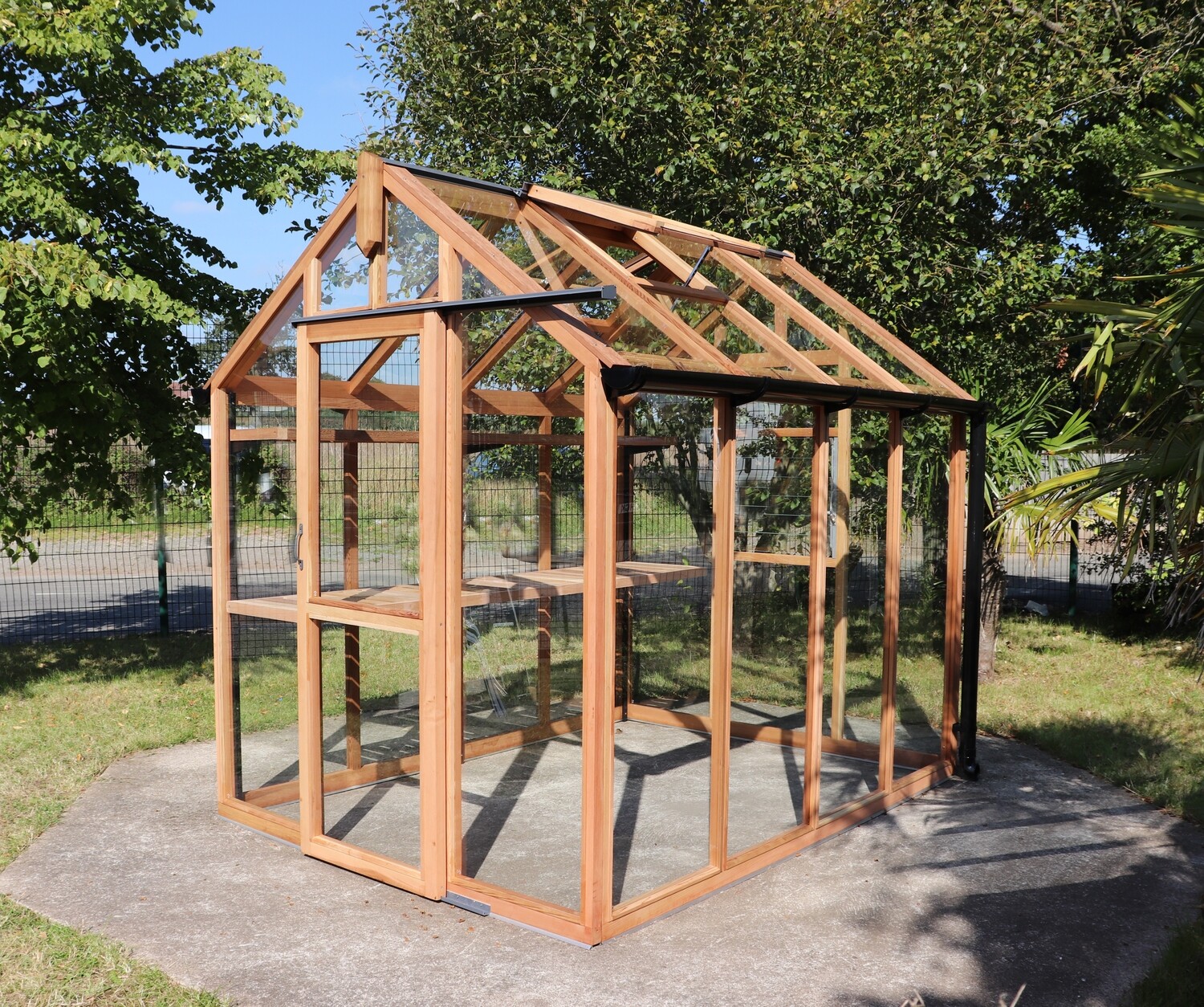 Prices above are inclusive of 20% VAT, DELIVERY  in mainland UK
Sales & Helpline 01889 562610 – 7 Days a week