Tanalised Coldframes
6ft x 3ft Tanalised Coldframe £355

3ft x 3ft Tanalised Coldframe £280 (Please call office on 01889 562610 about this model)

5ft x 3ft Tanalised Coldframe £325

6ft x 3ft Tanalised Coldframe £355

Our tanalised coldframes are hand crafted in the same way as our cedar coldframes but use a tanalised softwood. This gives a long-lasting product at an affordable price. We pride ourselves on the strength and durability of our coldframes and have designed them to provide the perfect space for sheltering your seedlings and hardy vegetable plants.
This sloped roof maximises sunlight and allows water to run off, whilst the lid is hinged for easy access and the stays allow the tops to be held open if ventilation is required
Benefits of growing in a cedar coldframe –
Extra warmth in late spring and summer
Encourages quicker ripening and a larger crop
Useful to propagate plants
Protect cuttings and young plants in the autumn
A safe location to raise seedlings
Shield alpines in the winter
Cedar Coldframe Features: Now with easy removable lids
Back height- 650mm
Panelling- 17mm Tanalised Softwood
Lids- 44mm x 69mm Western Red Cedar
Framing- 45mm x 45mm Tanalised Softwood
Front height- 375mm
Glazing- 4mm Toughened safety glass
Hinges- Unique system
Colour- Tanalised Brown
Stay- Fitted on Each Lid
Tanalised Coldframe Prices and Sizes
5ft x 3ft Tanalised Coldframe
3X5TANCF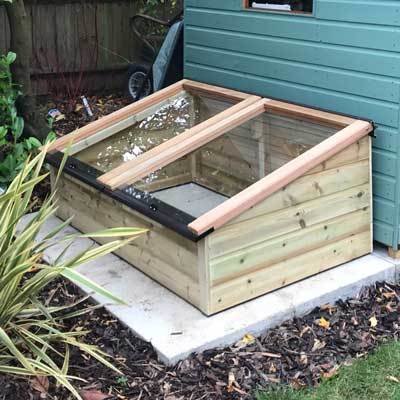 5ft x 3ft coldframe has two opening lids, each one with a single pane of 4mm English toughened safety glass
Specially extruded aluminium handle and hinges give lids an elegant look. The aluminium hinge allows the lids to be removed easily for better access and ventilation whilst the wooden supports allow the lids to be held open at two levels.

Entire Tanalised timber construction helps prevent any rot and extends product lifetime.

Back height - 650mm

Front height - 375mm

Panelling - 15mm

Framing - 45mm

Lids - 70mm x 45mm

All of our timber coldframes are assembled in your ideal location by the Woodpecker team, included in the delivery cost through out the UK.

Our current lead time is approximately 3-4 weeks

(Please note we try and deliver our coldframes when we are in the area with one of our greenhouse installations, which does mean it can sometimes be sooner and sometimes longer than expected).

A member of staff will contact you with a date for delivery and installation.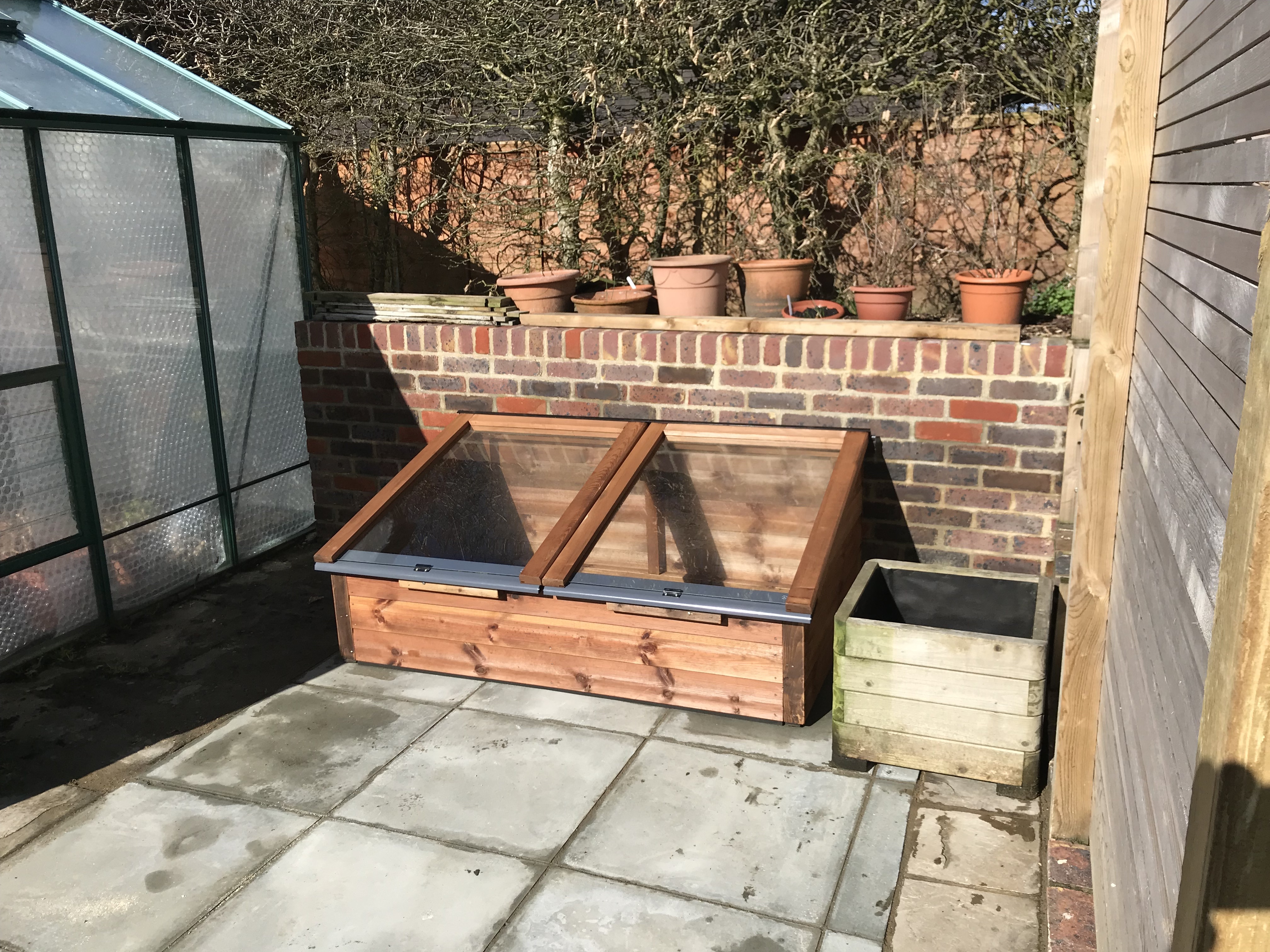 Sales & Helpline 01889 562610 – 7 Days a week
BESPOKE COLDFRAME TOPS
We also make bespoke coldframe tops that fit to your existing or new wall (as shown below)
12ft x 3ft Bespoke Cedar Coldframes

2 1/2 ft x 12ft Bespoke Cedar Coldframe Stained Red Cedar

2ft x 16ft Bespoke Cedar Coldframe

3ft x 8ft  Bespoke Cedar Coldframe Stained Dark Brown