Tall Cedar Coldframes
From left to right – 2ft x 4ft, 2ft x 6ft, 2ft x 8ft tall 5ft Tall Cedar Coldframes. (All Stained Clear)
Here at Woodpecker Joinery, we are not only renowned for the quality of our greenhouses but also for the strength and durability of our superior UPRIGHT COLDFRAMES all so known as a PATIO GREENHOUSES.  A great method to save space in a smaller sized garden and within your main greenhouse.  An attractive way to protect your plants and, if required, easy to manoeuvre.  Ideal for raising seedlings and summer crops too tall for the standard coldframe (for example peppers, tomatoes, and aubergines). Woodpecker use only the highest quality Western Red Cedar and, as with all of our garden buildings, the tall coldframe units are created with high precision mortice and tenon joints. Pictures below show our standard height and width of tall coldframes, which are all fitted with two sliding front doors, up to four opening lids which are removable very easily all glazed with 4mm toughened safety glass as standard. All Tall Coldframes include one wide (500mm) and one narrow (300mm) adjustable height shelf as standard.
The price for our Tall Coldframes is inclusive of assembly in your Garden by our Woodpecker Fitting Team.
8ft x 2ft, 5ft Tall Cedar Coldframe
2X8X5TCF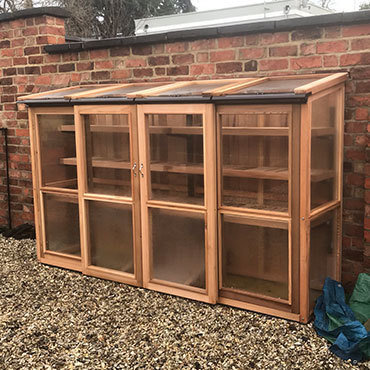 Free Delivery and Installation to UK Mainland on this product
8ft x 2ft, 5ft Tall Cedar coldframe has four opening lids, each one with a single pane of 4mm English toughened safety glass.

Specially extruded aluminium handle and hinges give lids an elegant look. The aluminium hinge allows the lids to be removed easily for better access and ventilation whilst the wooden supports allow the lids to be held open at two levels.

Robust double roller sliding doors.

Two tier adjustable and removable shelves (One wide and one narrow - each tier is split into two 4ft units).

Entire Western Red Cedar construction.

Rear face height of 5ft, clad with 15mm Cedar Boards.

All of our timber coldframes are assembled in your ideal location by the Woodpecker team, included in the delivery cost through out the UK.

Our current lead time is approximately 4-6 weeks

(Please note we try and deliver our coldframes when we are in the area with one of our greenhouse installations, which does mean it can sometimes be sooner and sometimes longer than expected).

A member of staff will contact you with a date for delivery and installation.
Additional Narrow Shelving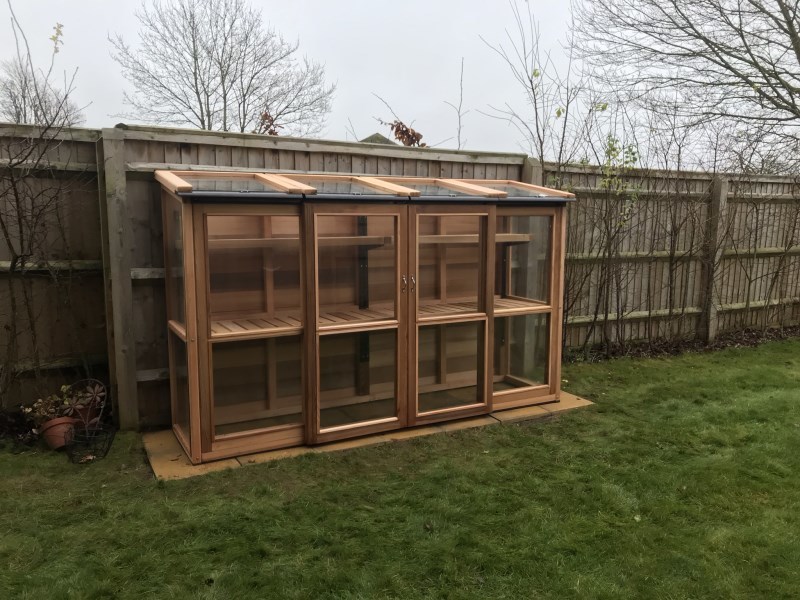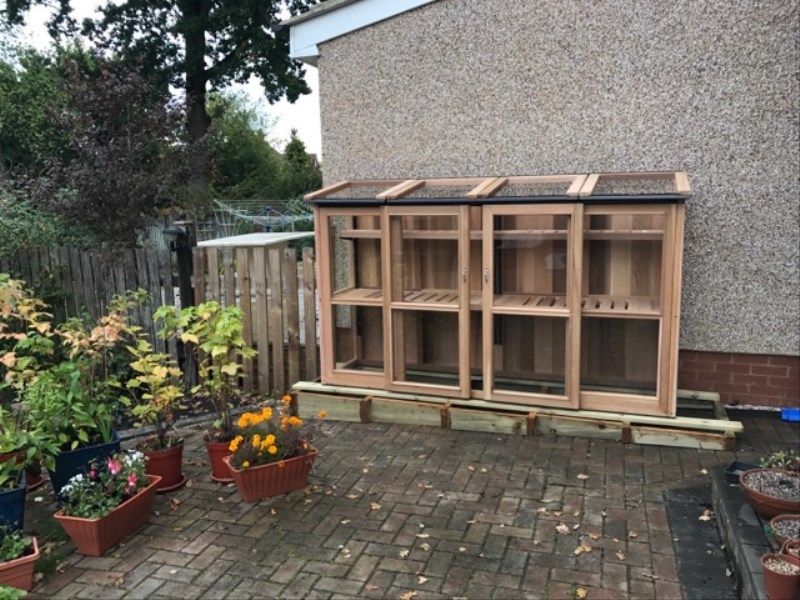 Standard Features Of Our Tall Coldframes
Entirely manufactured from Western Red Cedar for low maintenance and extended life time
15mm Thick cedar panelled back as standard
4 mm toughened safety glass
Aluminium hinge and handle
Roof lids with opening stays
Adjustable height shelving
Three-year guarantee
Prices above are inclusive of 20% VAT, DELIVERY in mainland UK
As we manufacture all coldframes in our workshop we can offer bespoke sizes on request
Sales & Helpline 01889 562610 – 7 Days a week
Optional: Extra Shelves
Narrow

4ft narrow shelf £50

6ft narrow shelf £60

8ft narrow shelf £85

Wide

4ft wide shelf £75

6ft wide shelf £100

8ft wide shelf £135
2ft deep x 8ft wide x 5ft Tall Cedar Coldframe stained Clear

2ft deep  x 4ft wide 5ft  Tall Cedar Coldframe. Stained Clear.
2ft Deep x 4ft Wide x 6ft Tall Cedar Coldframe. Stained Red Cedar.