Fully Glazed Coldframes
Strong 2″ x 2″ Western Red Cedar Frame

Our unique full length hinge

Full-length aluminium handle

Removable lids for easy access
Here at Woodpecker Joinery we are not only renowned for the quality of our greenhouses but also for the strength and durability of our superior ColdFrames which, as any gardener will be aware, is an important addition to extend the gardening season throughout the winter months, start off young seedlings and harden off plants.
Constructed from 45mm x 45mm framing with 69mm x 44mm opening lids, the timber is tanalised (green) for a long life against rot.  All models come with full-length aluminium hinges and handles as standard. Our superior Western Red Cedar Coldframes combines the natural beauty of cedar giving a quality finishing touch to your garden. We use only the highest quality Western Red Cedar and, as with all of our garden buildings, the coldframe units are created with high precision mortice and tenon joints.
All coldframes have opening tops with a unique hinge system that allows you to remove the lids with just one screw.  Ideal for the summer months. Our new and improved aluminium lid handle ensure longevity and each lid has external supports to allow the tops to be held open and easy access into the coldframe, each lid is fitted with one single sheet of 4mm English toughened safety glass.
Benefits of growing in a cedar coldframe –
Extra warmth in late spring and summer
Encourages quicker ripening and a larger crop
Useful to propagate plants
Protect cuttings and young plants in the autumn
A safe location to raise seedlings
Shield alpines in the winter
Cedar Coldframe Features: Now with easy removable lids
Back height- 650mm
Lids- 44mm x 69mm
Framing- 44mm x 44mm
Front height- 375mm
Glazing- 4mm Toughened safety glass
Hinges- Unique system
Colour- Your choice
Stay- Fitted on Each Lid
Cedar Coldframe Prices and Sizes
6ft x 2ft Fully Glazed Cedar Coldframe
2X6GCF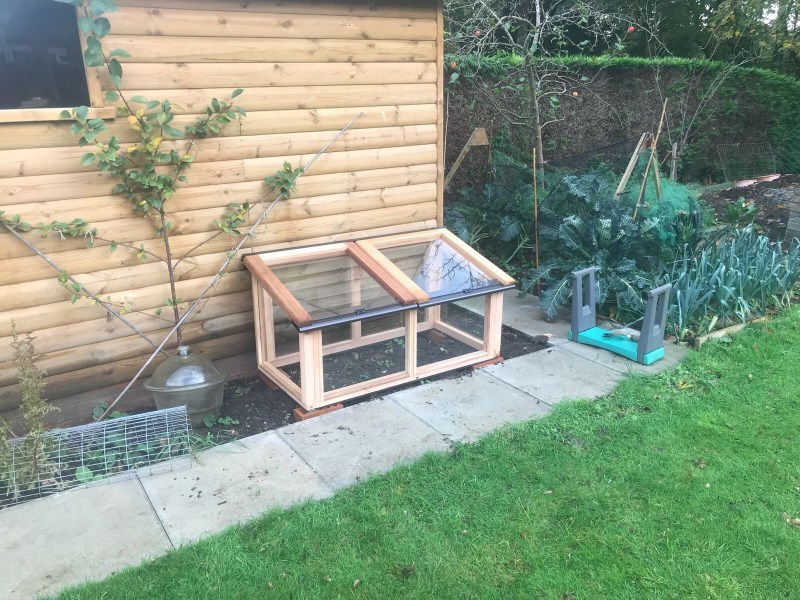 6ft x 2ft coldframe has three opening lids, each one with a single pane of 4mm English toughened safety glass. (Image is 4ft x 2ft coldframe)
The fully glazed coldframe allows more sun light at ground level than a traditional panel coldframe.
Specially extruded aluminium handle and hinges give lids an elegant look. The aluminium hinge allows the lids to be removed easily for better access and ventilation whilst the wooden supports allow the lids to be held open at two levels.
The timber coldframe is constructed entirely from Western Red Cedar. Western Red Cedar timbers exhibit natural self preserving properties to ensure a long life against rot, without the need for any maintenance.

Additionally all fixings, screws and hinges are manufactured from stainless steel to eliminate the possibility of any rust or corrosion.

Back height - 650mm

Front height - 470mm

Framing - 45mm

Lids - 70mm x 45mm

4mm English toughened safety glass (used throughout)

All of our timber coldframes are assembled in your ideal location by the Woodpecker team, included in the delivery cost through out the UK.

Our current lead time is approximately 3-4 weeks

(Please note we try and deliver our coldframes when we are in the area with one of our greenhouse installations, whch does mean it can sometimes be sooner and sometimes longer than expected).

A member of staff will contact you with a date for delivery and installation.
Prices above are inclusive of 20% VAT, DELIVERY in mainland UK
As we manufacture all coldframes in our workshop we can offer bespoke sizes on request
Sales & Helpline 01889 562610 – 7 Days a week